Portable Smart Wash Station by Site Safety
Smart Wash Stations available for hire or buy.
The Smart Wash Station is a super strong and robust construction which is manufactured from medium density polyethylene so its made to last and able to handle all types of outdoor and indoor conditions.
A portable hand wash and sanitizer station which is the perfect hygiene and wash down unit for all building and construction sites, factory's, workplaces, schools, playgrounds etc.
With it being a touch free unit and large range of features including integrated rubbish bin for the paper towels and extra storage for soaps/paper towels etc this is the most premium portable hand wash and sanitize station you can get.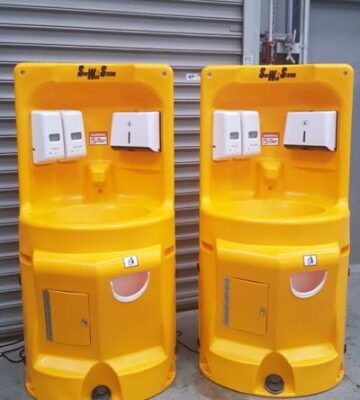 Features & benefits:
Manufactured in New Zealand 

Hands free operation

50L Capacity

Weather & UV resistant

Paper towel, soap and sanitiser dispensers

Foot pump to activate water

Integrated rubbish bin

Extra storage for paper towels, soaps etc

Large basin

Lifting eyes

Hand grips for easy lifting

Able to be bolted or pegged to ground

Fresh water tank capacity – 50L

Grey water tank capacity – 50L
Measurements:
Height: 1550mm
Width: 800mm
Depth: 600mm
Weight: 45kg approx. (Empty)